Family Craft Series: Craft Felt Chain Garland
I am the mother of 2 incredibly busy kiddos. In our house, play doh is a necessity, jumping on the trampoline happens daily, and we almost ALWAYS have art supplies out. Sometimes those art supplies are taken out by a grown up to do a family project, but more often, they are chaotically removed from their bins by a kiddo to make a checker board from the Amazon box that just got delivered, or to paint the eyes on a snowman that "wasn't cute enough" or to add the finishing touches to a comic strip that has been drawn in one of our many notebooks and journals. I love creative kiddos, even if I have to spend a lot of time cleaning up after them.
So I thought it would be fun to share some of our creative output with our CKC family through a family craft series. Monthly, we will share ideas for a craft that you can do as a family. I hate crafts that get destroyed easily (I'm looking at you, every craft-store centerpiece kit we have ever made for Thanksgiving!), so our crafts will focus on simple ideas that will last! I will also try to share how my kids (ages 9 and 4) participated, and ideas for how kids with varying abilities can be involved.
Up first, here is our tutorial for making "paper chains" with felt. We made these for Thanksgiving and Halloween this year and just got bells to make some for Christmas. In short, these have been a hit with both of my kids and I'm psyched to share them with you.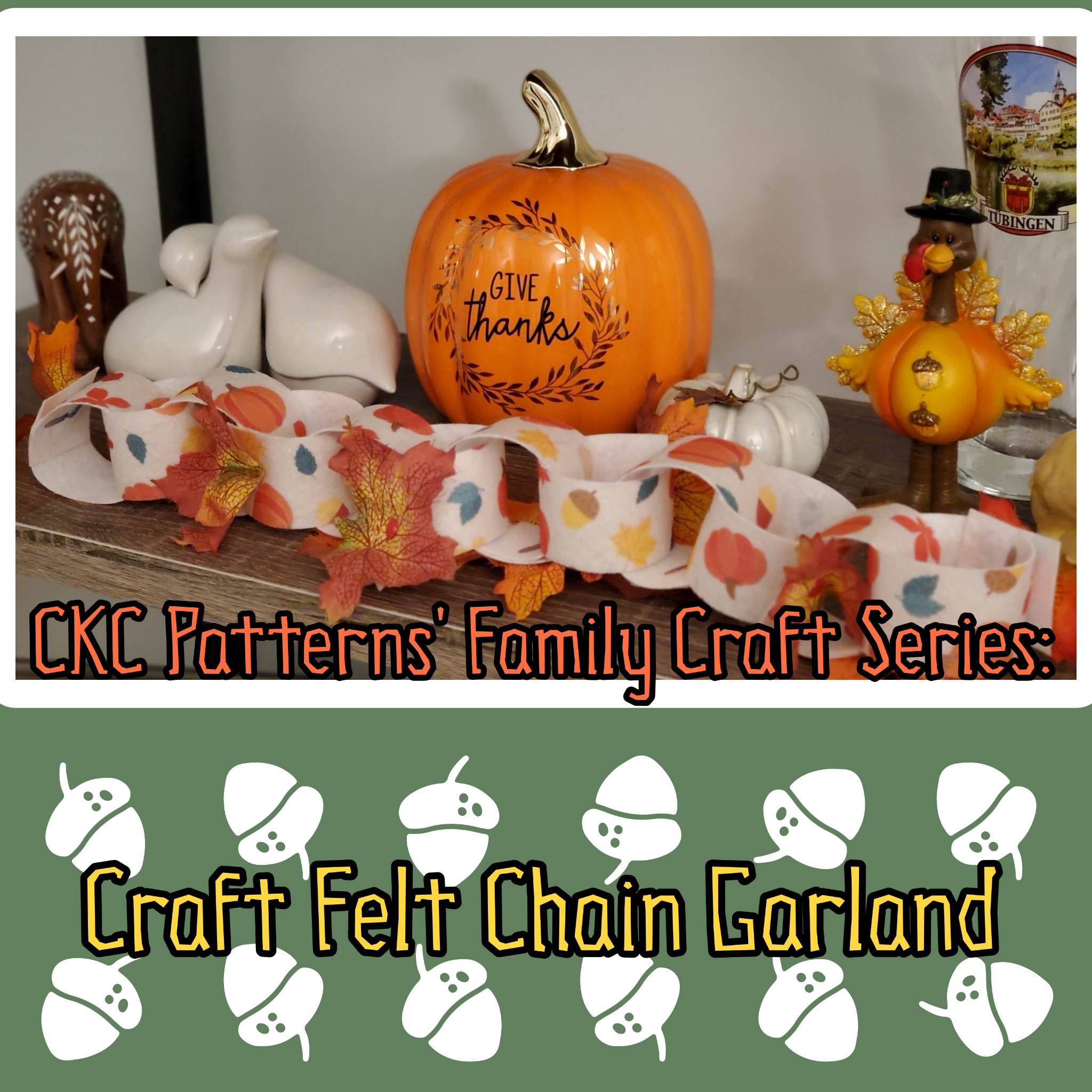 You will need:
Felt sheets from the craft store. (Before starting with the kids, I quickly cut them into 1.5 X 8.5" rectangles)
Brass fasteners (we got colorful ones on Amazon, but these are also common at Staples or other office supply stores)
A small pair of sharp scissors and/or a seam ripper
Optional: A decoration to attach to each ring. For Halloween, my son and I used foam shapes from our local craft store. For Thanksgiving, we used silk leaves. For Christmas, we bought jingle bells.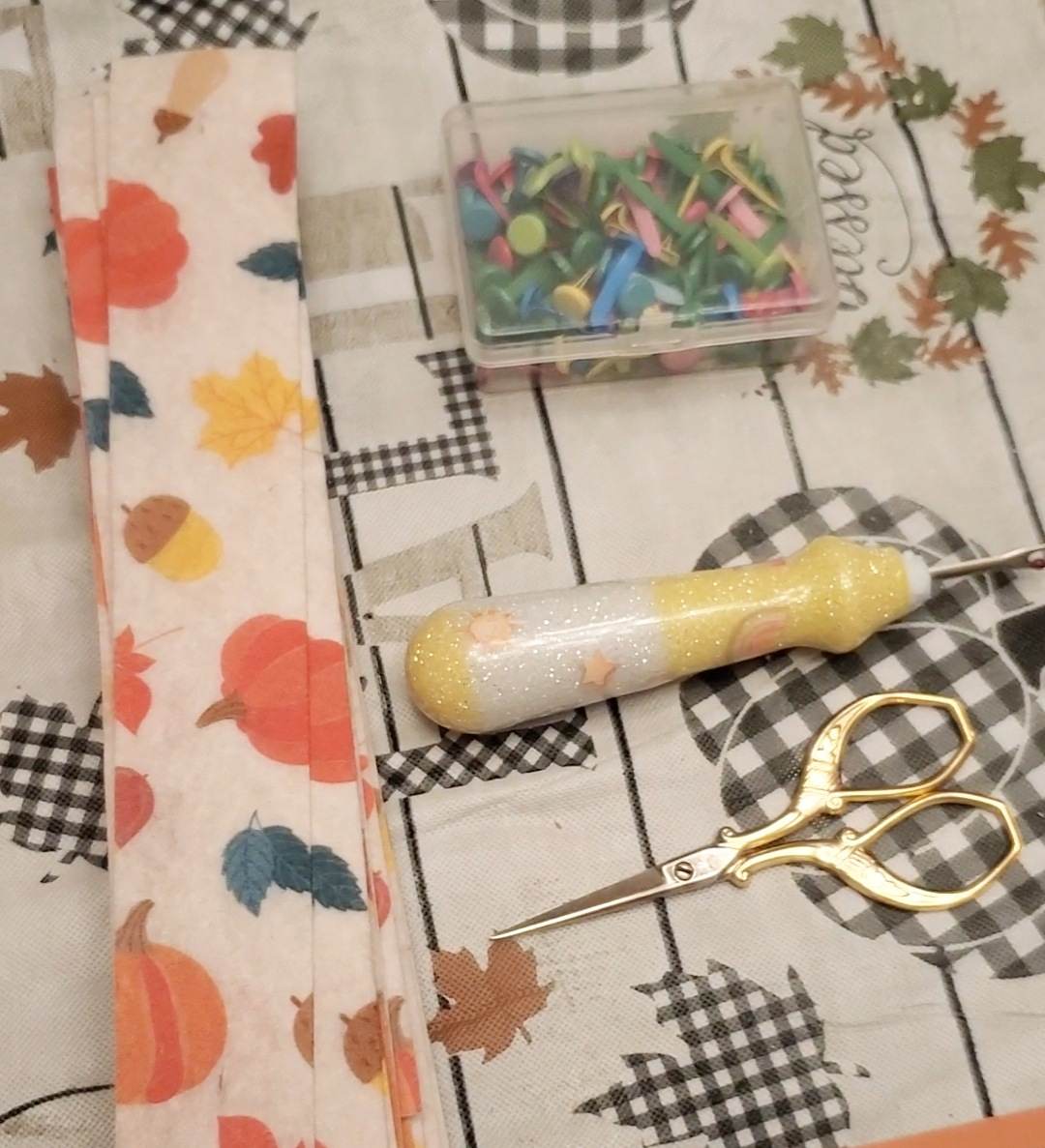 1. If you are using something from the floral department (like silk flower petals or silk leaves), remove them from their plastic stems first. Sometimes floral departments sell loose leaves or flowers (without those pesky plastic parts). We found a small leaf garland for twenty-five cents at a thrift store that we opted to upcycle by peeling the leaves off the plastic "veins" and branches. It was easy and something with which my grade schooler could help!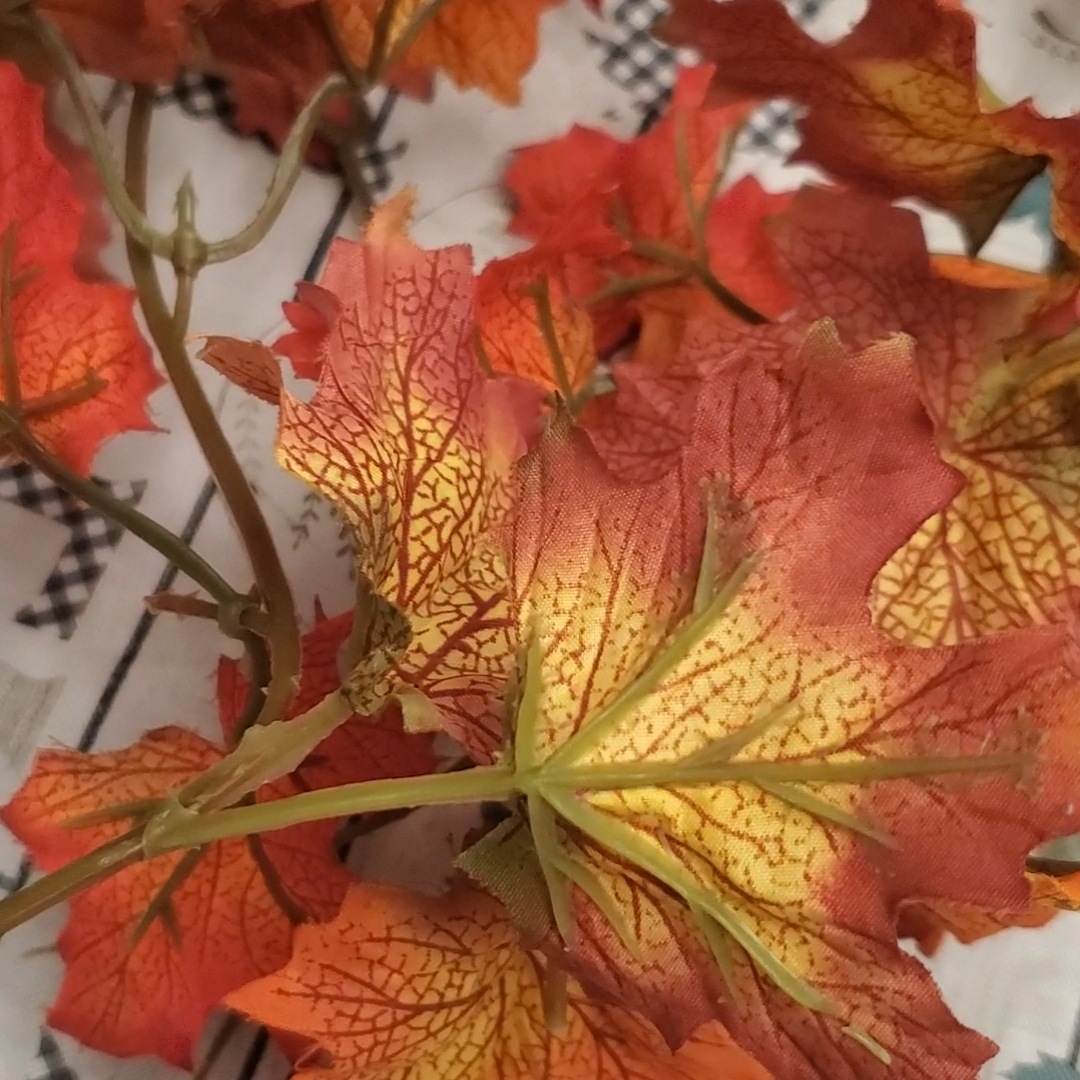 . .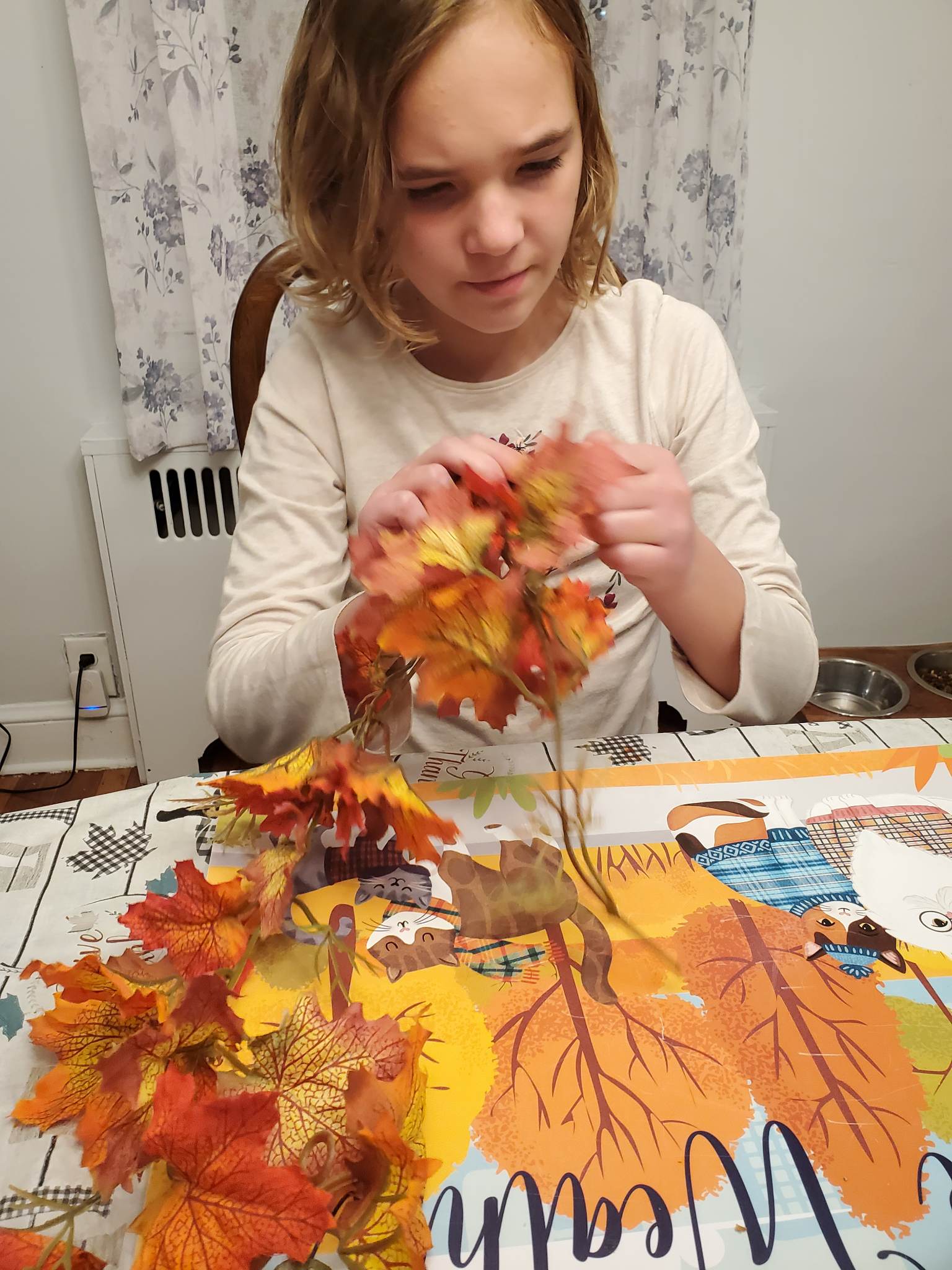 (Excuse the blurry photo! It was an action shot!)
2. Once the leaves are peeled from the stems, use small scissors or a seam ripper to cut a TINY hole in the center of the leaf. This will be where you insert the brass fastener, so the hole cannot be bigger than the head of the brass fastener. When my son and I used craft-foam shapes, we skipped this part because the pointed end of the fastener could poke through the foam. This was a great option for him because he doesn't use scissors just yet, but liked "poking" the Halloween shapes.
3. Now, poke holes on each short end of your felt strips, about half an inch from the bottom, centered. This was SO easy to do with a seam ripper. Although my daughter could do this, it took her a bit. It was much easier for me to rush through them (probably because I am, unfortunately, VERY familiar with how to use a seam ripper.)
4. Now the fun part: Assembly! Make a ring with one of your chain pieces so that the holes you made on either side line up. Then, stick your brass fastener through your leaf and then through the holes in your loop and open the fastener to hold the felt in place as a ring. Before beginning your next one, loop it through the existing ring and then keep on repeating!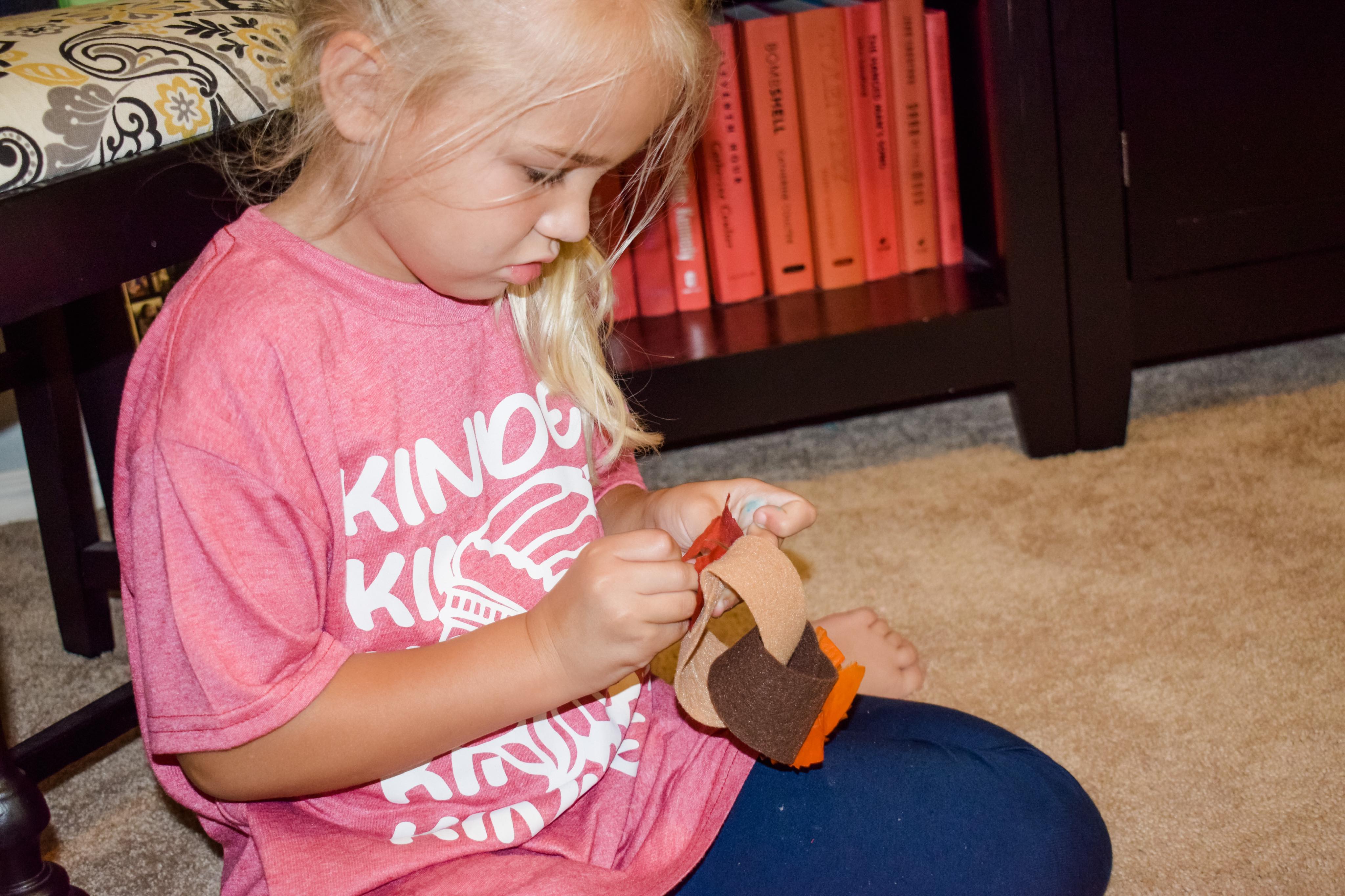 . .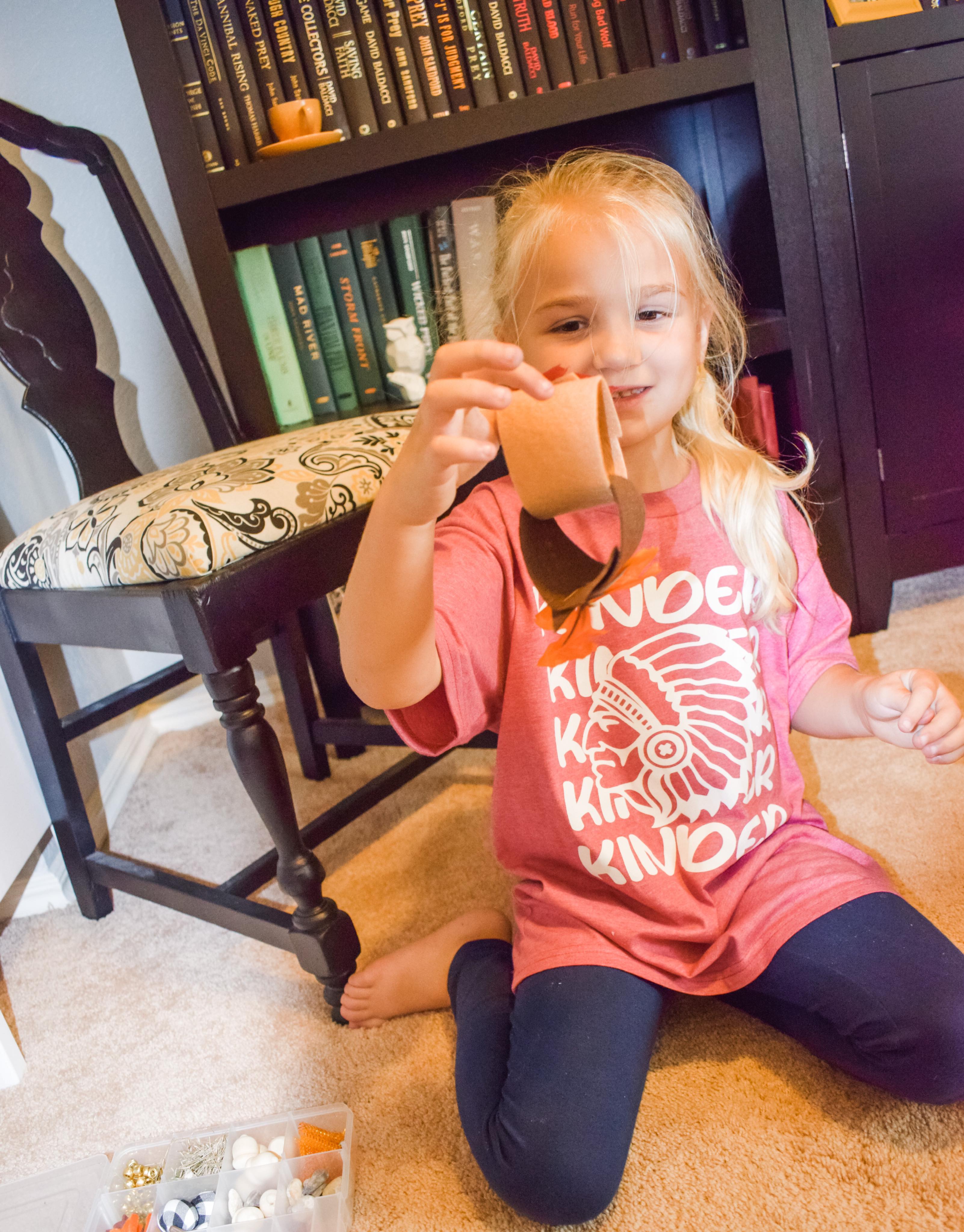 5. Now its time to keep building! My 3rd grader could do this independently. My preschooler needed help with all the steps, but was super engaged with an adult sitting with him.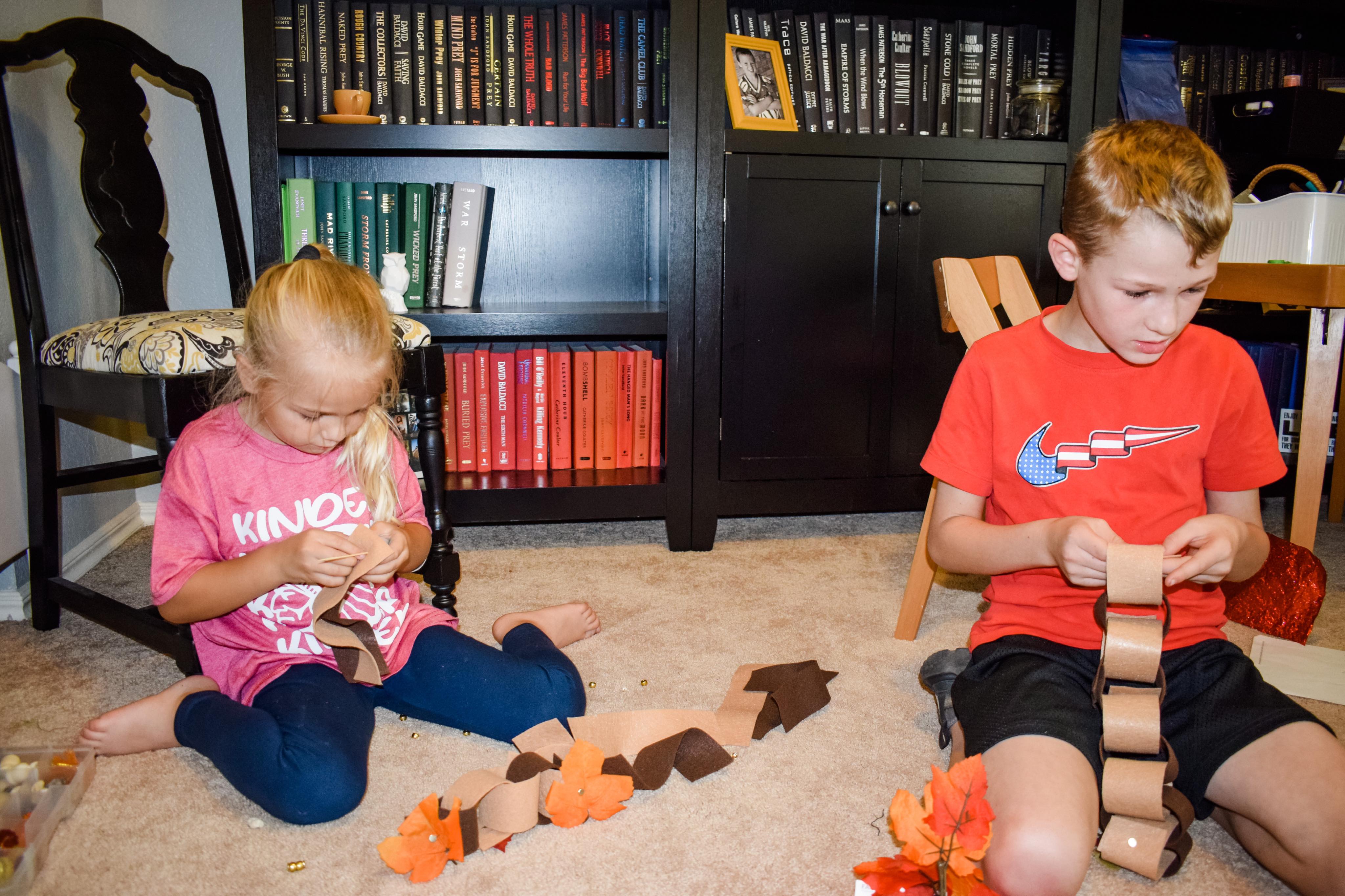 . .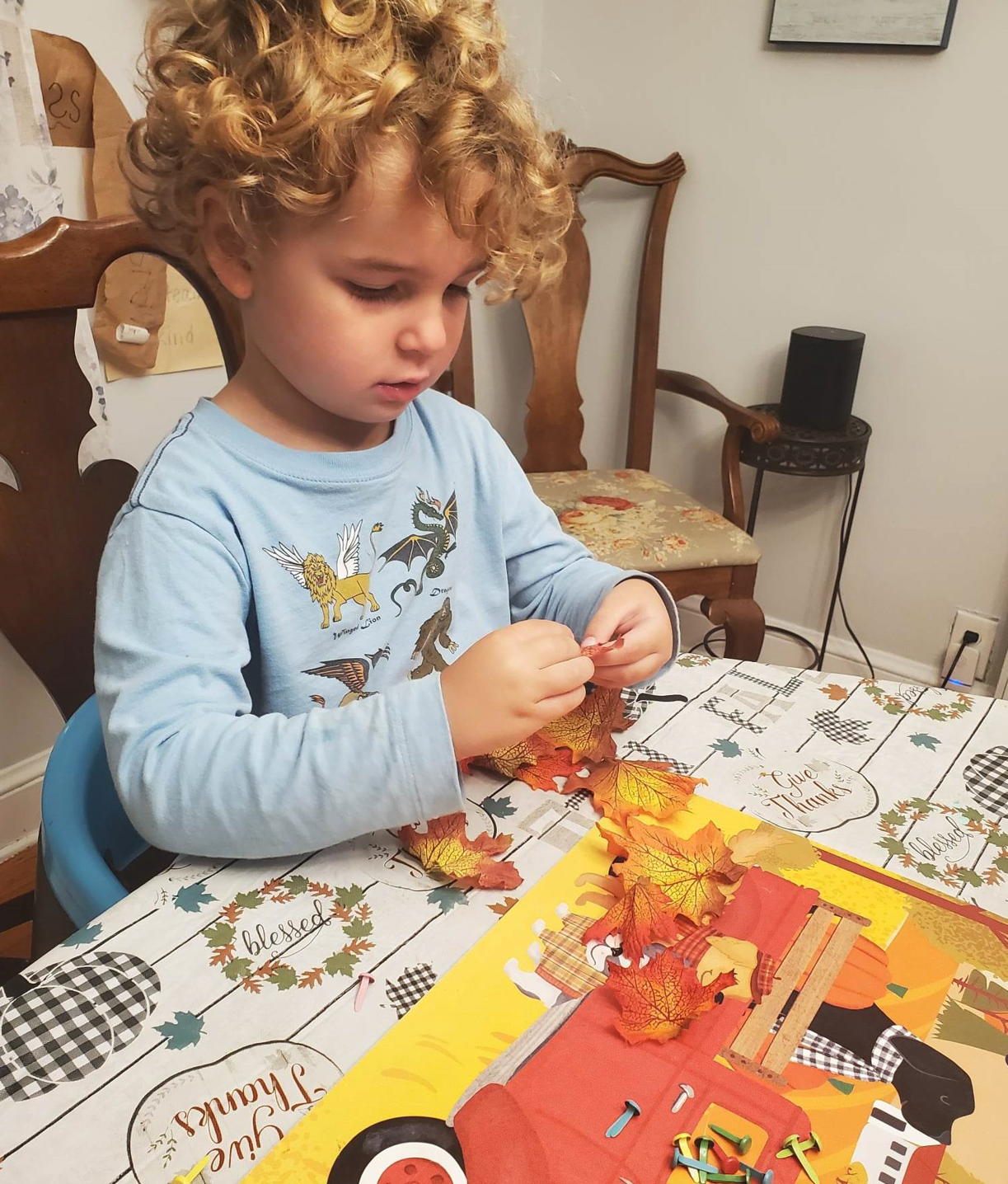 . .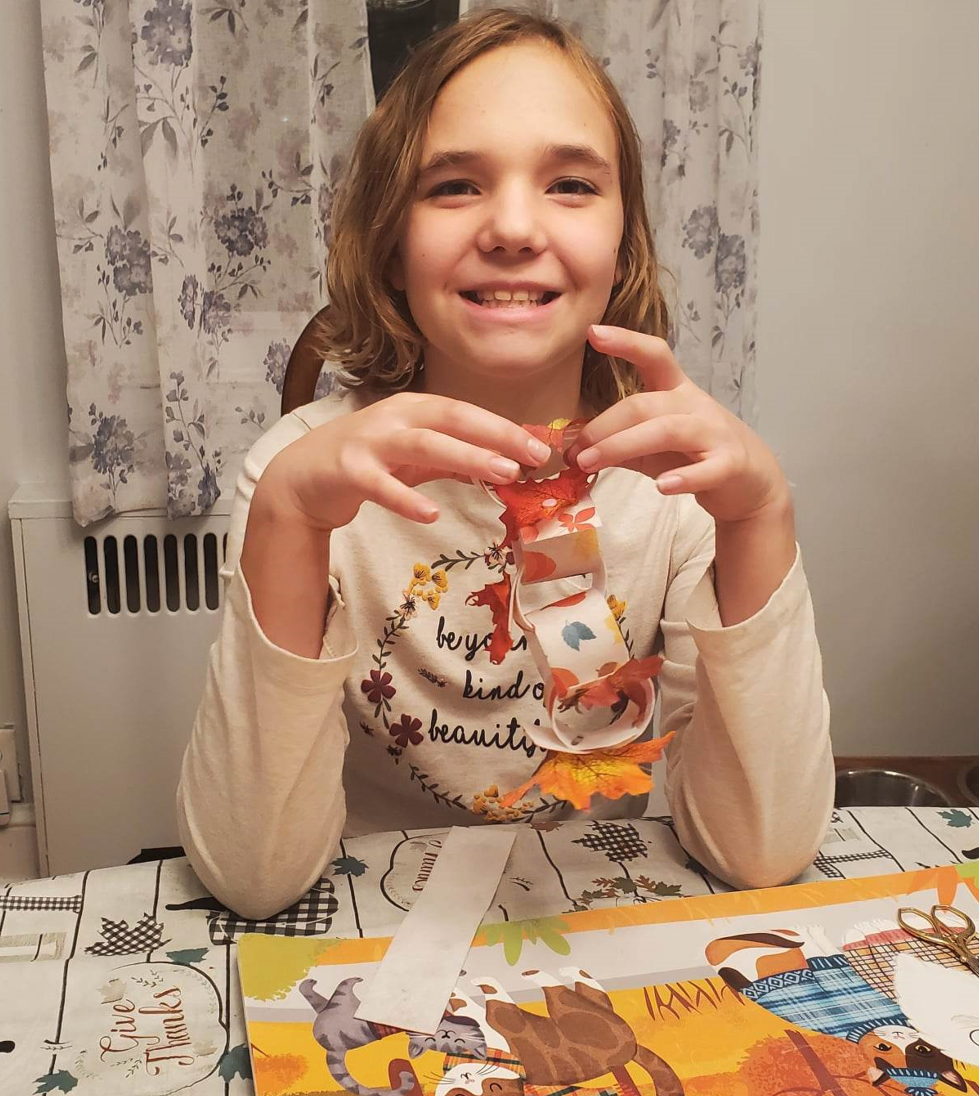 (The serious business of creating going on here!)
We kept going as long as we were all having fun! When the kids were done, so were we! They were so proud of the work that they had done! We gave one of our felt chains to the side of the family we were not spending Thanksgiving with this year and kept the other one for our Thanksgiving table. The kids loved knowing the gifts that were made would help decorate our entire family's tables, whether we were there or not.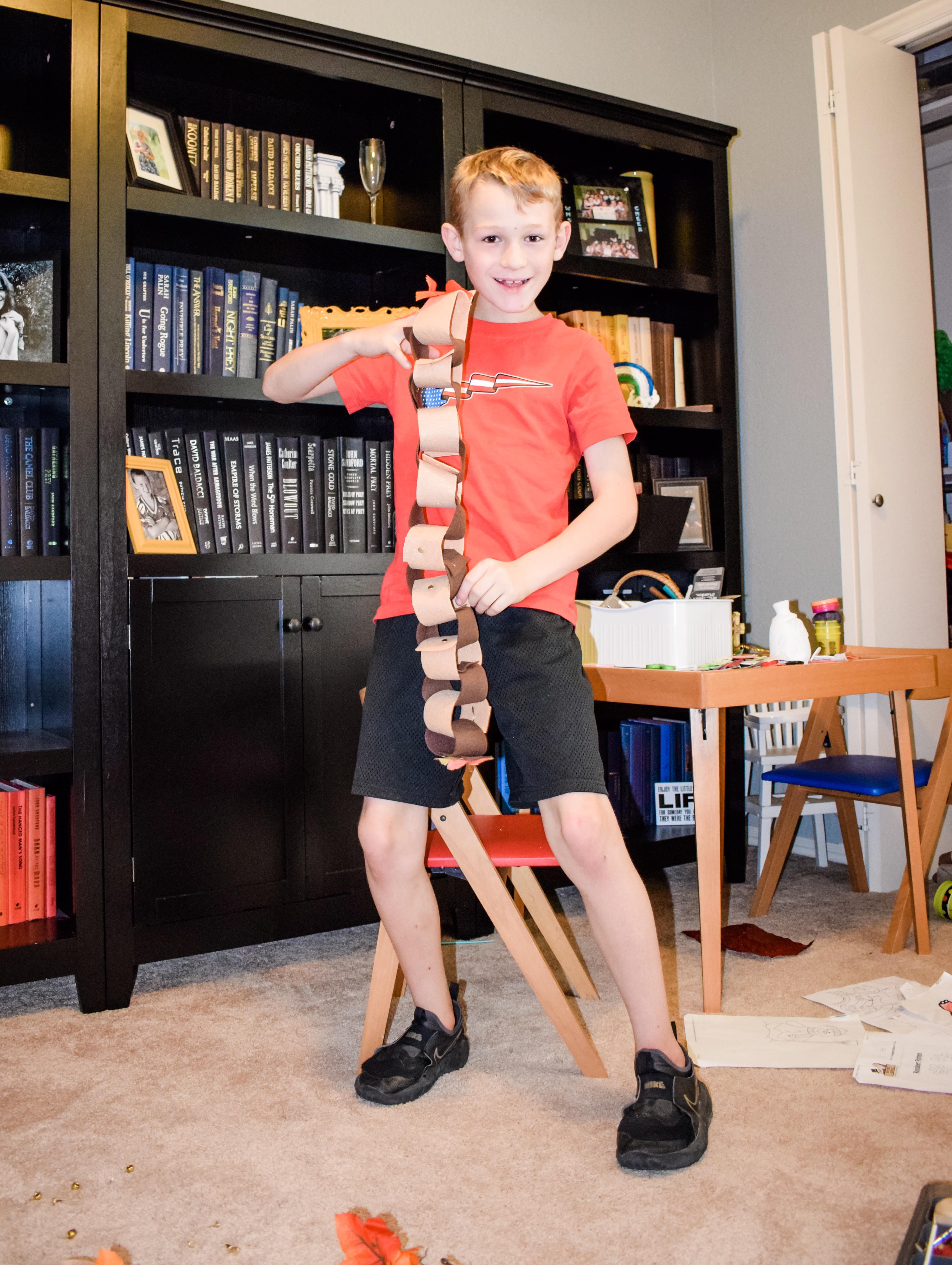 . .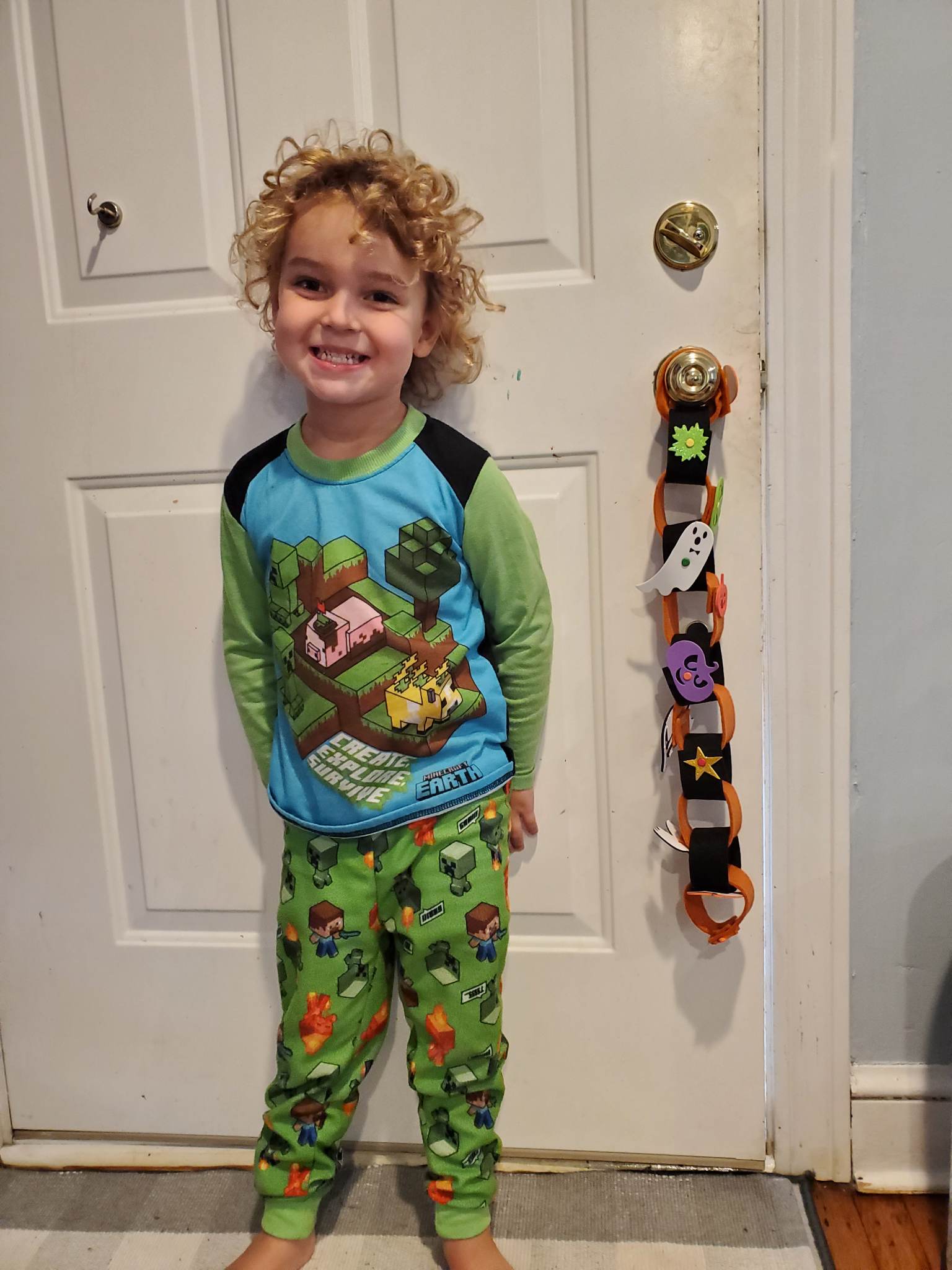 Special thanks to our designer, Susan, for trying this out with her kiddos, too! I so appreciated sharing this craft with another family! If you make a chain with the kiddos in your life, be sure to share it with us on Instagram or in our Facebook group! We cannot WAIT to see what you create!
-Meg